TPO ROOFING FOR COMMERCIAL APPLICATION
J and J Roofing provides commercial TPO roofing and PVC roofing in the greater LA area. J and J Roofing provides a veteran experienced crew and top-of-the-line equipment for expert installation.
CLICK HERE FOR A ROOFING ESTIMATE or PHONE 323-913-4190.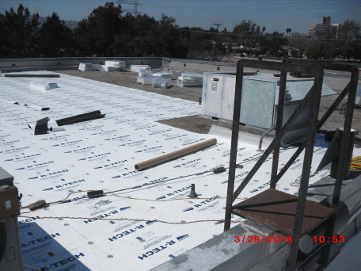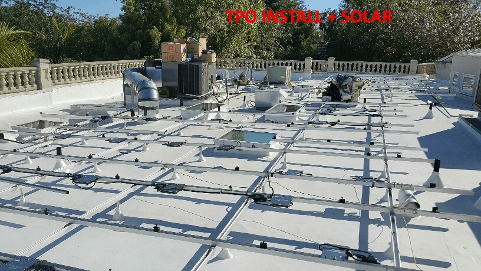 TPO or ThermoPlastic polyOlefin is essentially a rubber
roofing
material (typically bright white but is available in many colors) which is a very durable membrane that is uniquely hot-air welded together. TPO is typically a commercial roofing application but over the last 25 years has become a standard for residential applications as well. It has been among the fastest developing commercial roofing products and has achieved acceptance broadly in the roofing industry due to performance and installation advantages.
Another variant, PVC, is essentially the same thing but is used in commercial applications, typically where chemical discharge is present. We have one of the best, most experienced, certified TPO crews available and the product is installed using the most advanced robot welder available, a Leister Varimat V2 which has an onboard computer that monitors pre-programmed temperatures for each specific membrane type and environment, so that all welds are perfectly executed on all primary seams.
For almost three decades J and J Roofing has offered all phases of roofing including: shingles, hot tar, slate, all types of shake and tile, torchdown roofing systems, tapered-insulation roofing systems, single-ply TPO and PVC roofing systems. We professionally service small repairs to new residential installations as well as large commercial projects.
Locations:
We are a greater Los Angeles licensed commercial roofing contractor and also provide new roof construction and roof repair services in the surrounding communities including Northridge, Woodland Hills, Encino, Sherman Oaks, Tarzana, Studio City, Los Feliz, Silver Lake, Pasadena and Burbank.